Flex Plan 2023
Flex Plans 2023
Purchasing Flex Plan tickets will give you the option to choose the games that you would like to attend, along with the seats that you would like choose in the Club Section or on the Berms. ie. You can take 1 person to 5 games, 5 people to 1 game or any combination in between.
On April 1st at Noon, Flex Plan holders will be able to use our ticket portal to choose games for the season. Seat and game selection will be done on a first come, first served basis.
Flex Plans work like this:
1. Spend $115.00 + tax for a 5-game Flex Plan and receive credit to purchase 5 Club seats for the games you want - nearly $125 plus tax in value!
OR
2. Spend $215 + tax for a 10-game Flex Plan and receive credit to purchase 10 Club seats for the games you want - $250 plus tax in value!

If you are purchasing the Flex Plans as a Gift, your e-receipt will include link to this form; https://forms.gle/p7rYmUiqCmLn4ULv9. The form will ask for the information of the gift recipient and we'll transfer the Flex Plan to the recipient in the new year (so we don't ruin the surprise!).
You will also see this link; "https://www.sylvanlakegulls.com/2021/11/12/flex-plan-and-season-ticket-gift-receipts/" on the form that will take you to a spot on our website that you can download a Gift Receipt that you can use for the present.
7:05pm - Friday, May 26, 2023
Fort Mcmurray Giants vs Sylvan Lake Gulls
Home Game #1 - "Sea of Gold" Theme Night.
2023 Regular Season Berm/General Admission Season Tickets
2023 General Admission Berm Season Tickets
The General Admisssion Berm Season Ticket will get the ticket holder access to the 1st Base or 3rd Base Berm and the General Admission into the stadium standing room areas. These are first come, first served.
The Berms are meant for people to sit on the grass with blankets and towels, there are no seats. Lawnchairs are not allowed on 3rd base berm, there is limited spaces for lawnchairs on the 1st base berm on a first come first served basis.
7:05pm - Saturday, May 27, 2023
Fort Mcmurray Giants vs Sylvan Lake Gulls
2:05pm - Sunday, May 28, 2023
Fort Mcmurray Giants vs Sylvan Lake Gulls
7:05pm - Tuesday, May 30, 2023
Okotoks Dawgs vs Sylvan Lake Gulls
7:05pm - Saturday, Jun 3, 2023
Okotoks Dawgs vs Sylvan Lake Gulls
7:05pm - Monday, Jun 5, 2023
Medicine Hat Mavericks vs Sylvan Lake Gulls
7:05pm - Wednesday, Jun 7, 2023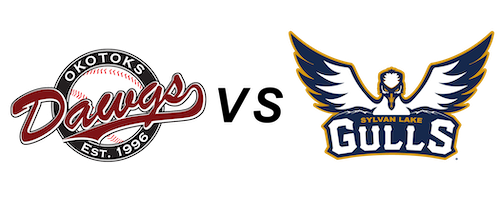 Okotoks Dawgs vs Sylvan Lake Gulls
7:05pm - Thursday, Jun 8, 2023
Medicine Hat Mavericks vs Sylvan Lake Gulls
7:05pm - Monday, Jun 12, 2023
Lethbridge Bulls vs Sylvan Lake Gulls
7:05pm - Tuesday, Jun 13, 2023
Lethbridge Bulls vs Sylvan Lake Gulls
7:05pm - Friday, Jun 16, 2023
Moose Jaw Miller Express vs Sylvan Lake Gulls
7:05pm - Saturday, Jun 17, 2023
Moose Jaw Miller Express vs Sylvan Lake Gulls
7:05pm - Monday, Jun 19, 2023
Okotoks Dawgs vs Sylvan Lake Gulls
7:05pm - Friday, Jun 23, 2023
Brooks Bombers vs Sylvan Lake Gulls
2:05pm - Sunday, Jun 25, 2023
Brooks Bombers vs Sylvan Lake Gulls
7:05pm - Wednesday, Jul 5, 2023
Lethbridge Bulls vs Sylvan Lake Gulls
7:05pm - Friday, Jul 7, 2023
Brooks Bombers vs Sylvan Lake Gulls
7:05pm - Monday, Jul 10, 2023
Lethbridge Bulls vs Sylvan Lake Gulls
7:05pm - Thursday, Jul 13, 2023
Swift Current 57's vs Sylvan Lake Gulls
7:05pm - Friday, Jul 14, 2023
Swift Current 57's vs Sylvan Lake Gulls
7:05pm - Tuesday, Jul 18, 2023
Weyburn Beavers vs Sylvan Lake Gulls
7:05pm - Wednesday, Jul 19, 2023
Regina Red Sox vs Sylvan Lake Gulls
7:05pm - Thursday, Jul 20, 2023
Regina Red Sox vs Sylvan Lake Gulls
7:05pm - Friday, Jul 21, 2023
Weyburn Beavers vs Sylvan Lake Gulls
7:05pm - Saturday, Jul 22, 2023
Fort Mcmurray Giants vs Sylvan Lake Gulls
2:05pm - Sunday, Jul 23, 2023
Fort Mcmurray Giants vs Sylvan Lake Gulls
7:05pm - Wednesday, Jul 26, 2023
Okotoks Dawgs vs Sylvan Lake Gulls
7:05pm - Friday, Jul 28, 2023
Brooks Bombers vs Sylvan Lake Gulls